the brief
Established for 30 years', and one of twenty stand-out independent media agencies in London, MNC helps ambitious, marketing-fuelled brands smash their business goals through forensically optimising their media campaigns. But despite supporting several well-established household names to maintain their market leadership, MNC's dull website, with its fixed structure and lack of brand expression, didn't reflect the incredible work the company delivered to its clients. Impressed with the creativity shown on its main competitor's website, MNC engaged Above Digital to design something that accurately represented what the business actually did.
Employing the techniques of forensic optimisation, MNC's core focus is on delivering exceptional return-on-investment. As such, it positions itself as the 'ignition' point of a brand, and has a great track record in scaling businesses - taking brands from their initial start-up, through their first four years of trading. Using this as the starting point, Above Digital created a unique visual online presence. This included a vivid colour scheme to better represent the company's ability to deliver successful stand-out media campaigns.
The updated visual presence was used to create a bespoke website design, which aligned the marketing efforts with MNC's longer-term social and content strategy. The fully SEO optimised site was developed on a WordPress platform and deployed with ongoing hosting. Now the site better represents the brand values and showcases all MNC has to offer its clients; including elite consumer brands, such as Moonpig, Confused.com, Shpock, Trivago, HungryHouse and Oak Furniture Land.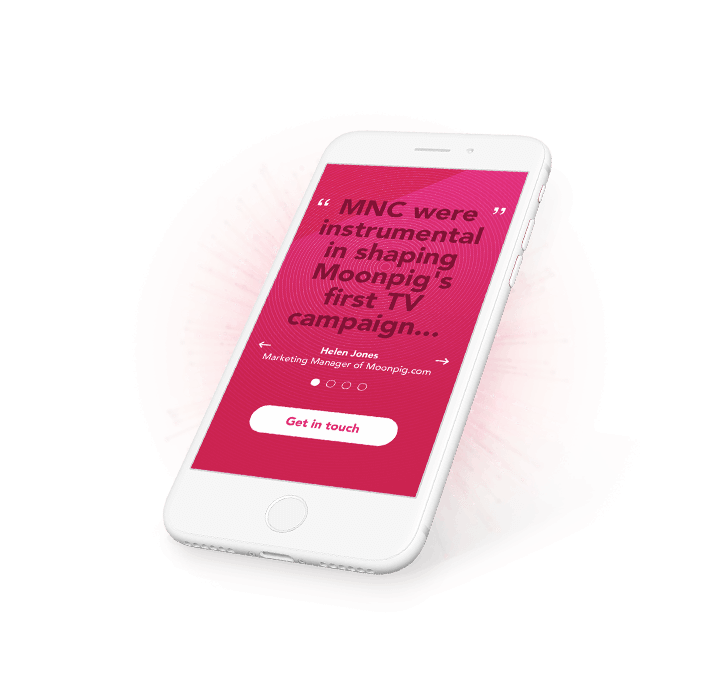 interface design
We place the User Experience at the heart of everything we do. That way we ensure any interface design works well for both the business and end user, directing them from their entry point through to a chosen destination in the quickest and most rewarding way possible! To do this we fully explore all business and user requirements, define the key goals and summarise via page wireframes, which can be made interactive. The whole process is scaleable and focused on providing the right blend of brand design, business requirements, user journey and technology. If we get it right then everyone is happy.
Users can typically be placed into one of two broad categories. Those who know what they want and those who do not. For the ones that do we provide clear and easy to use options focused on their priority tasks. Alternatively for users who want to explore and find their own path, we provide the right guidance to get them from A to whatever B might be, as quickly and simply as possible.
The end result was a testament to the benefits of designing brand and website hand in hand.
top 10 UK media agency
website design
logo and branding
digital marketing
PPC / SEO / Email / Social Channel Management
There are a wide range of digital marketing activities on offer so choosing the right ones can be confusing. At Above Digital we talk through your objectives and explore the options available to make sure you take the right path. From search engine optimisation (SEO), social channel management, email marketing or paid Advertising in Facebook, Twitter or running a Google Adwords, Display Ads or re-marketing, it will depend on what you are trying to achieve with your available budget.
To ensure the best results, all campaigns should be reviewed and key learnings defined so that any ongoing activity can be improved. We try to provide the right guidance and support, from the launch of a new product through to extending your brand reach online.